Profhilo treatment is one of the most popular treatments for skin laxity, skin hydration, skin cell health, skin quality and maintaining cellular vitality.
But what are the ingredients of Profhilo?
Today we dive into the extremely simple list of ingredients in Profhilo.
Profhilo Ingredients List
The complete ingredient list of Profhilo is: 3.2% – 32mg (H-HA) + 32mg (L-HA)/2ml Hyaluronic acid sodium salt.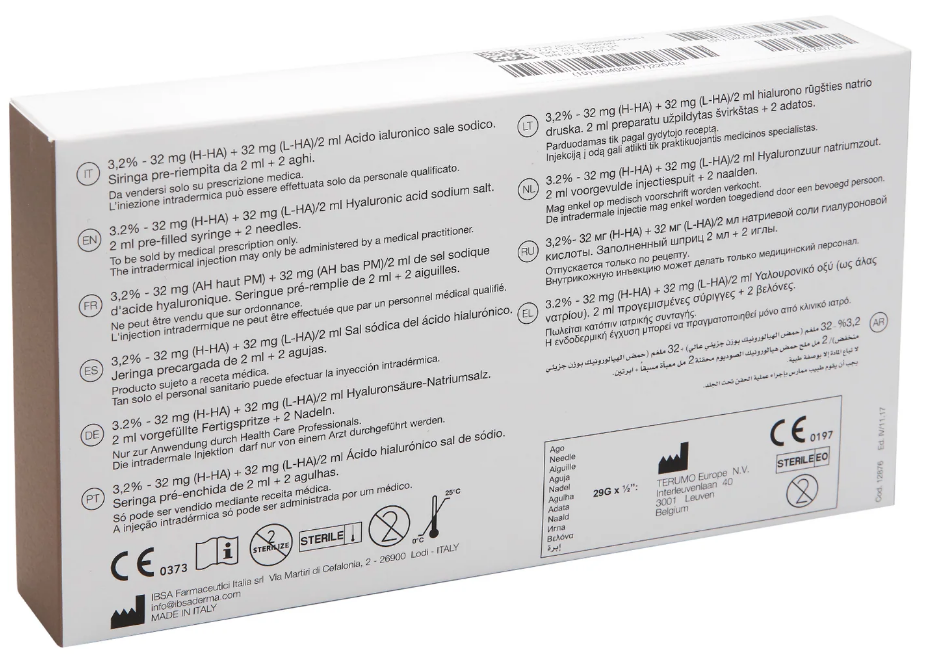 Profhilo is made from a special type of patented hyaluronic acid sodium salt that has 3.2% – 32mg + 32mg of hyaluronic acid (64mg).
It comes in a prefilled 2ml syringe and should only be purchased and administered by a medical practitioner.
What makes it special is the combination of molecular-weight hyaluronic acid that comes in low molecular-weight HA and high molecular-weight HA.
Profhilo is not the same as traditional dermal filler procedures, as it will not fill a location, it acts on a different mechanism.
For more information, read the article: When Will I See Results From Profhilo?
Low Molecular Weight HA
Low molecular weight HA has tiny molecules that provide skin hydration deep into the layers of the skin.
This is beneficial for improving overall skin hydration/moisture and reducing wrinkles.
On top of this, it will enhance collagen and elastin production, which is needed for treating skin laxity tissue quality.
High Molecular Weight HA
High molecular weight HA has large molecules that are beneficial to maintaining cellular vitality and skin firmness.
It has anti-inflammatory properties that provide surface-level skin hydration and improves skin cell health.
Profhilo Haenkenium Ingredients
Profhilo Haenkenium is not the same as the injectable version of Profhilo.
It is a topical formulation skincare product that should be considered a booster to your injectable treatment.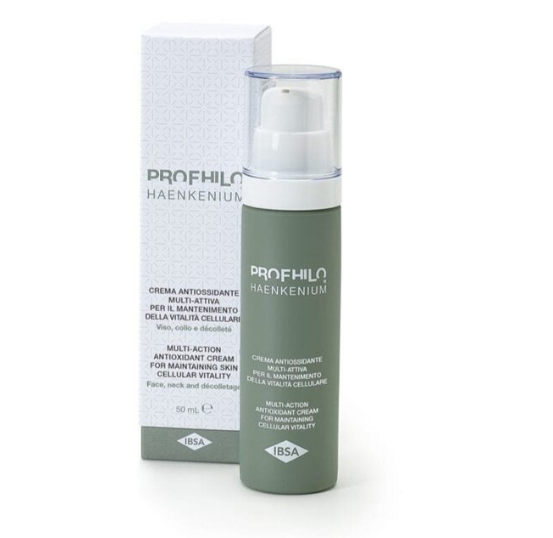 It can also be used alone but will not yield a result comparable to injectable treatments.
It is great for stressed skin or helping sun-damaged or prematurely aged skin.
Profhilo Haenkenium Ingredients List
Hyaluronic acid (sodium salt) 0.2% HAENKENIUM (R) (Salvia Haenkenium extract) 0.25% purified water, disodium EDTa, Xylitylglucoside, anhydroxylitol, xylitol, polyethylene methacrylate, C14-22 alcohols and c12-20 alkyl glycoside, isononyl isononanoate, cococaprylate caprate, hydroxyethyl acrylate, sodium acryloyldimethyltaurate copolimer, squalane, polysorbate 60, L-arginine, phenoxyethanol, benzoin acid, dehydroacetic acid, ethylhexylglycerin.
Summary
Now you know the Profhilo ingredients (hyaluronic acid HA), it's time to try this skin booster treatment for yourself.
Whether you're looking for optimal hydration, immediate skin hydration or just want to try this amazing hyaluronic acid complex for anti-wrinkle treatment, we know you'll love the results and the best part is it's suitable for all skin types.
To find a location near you, please check out our list of Profhilo Locations.