You've probably heard the hype about this amazing skin treatment and thought to yourself, is Profhilo treatment approved in Australia?
Let's get into the details now!
Is Profhilo Available in Australia?
Yes, as of 14/04/2022. Profhilo treatment is legally available in Australia.
The TGA (similar to the USA's FDA) approved the sponsored supplier to supply clinics in Australia with this excellent skincare product.
It took several months for skin clinics to start offering the service, but as of now, you should be able to find it in many clinics around Australia.
For a full list of recommended clinics, visit our Bio Remodelling Locations page.
ARTG Sponsor Details (TGA)
The ARTG is the official register of all medical devices in Australia, so we can determine that Profhilo injectable treatment solution (thermally cross-linked hyaluronic acid) is registered as a Class III medical device on the Australian government ARTG website under registration number 387132.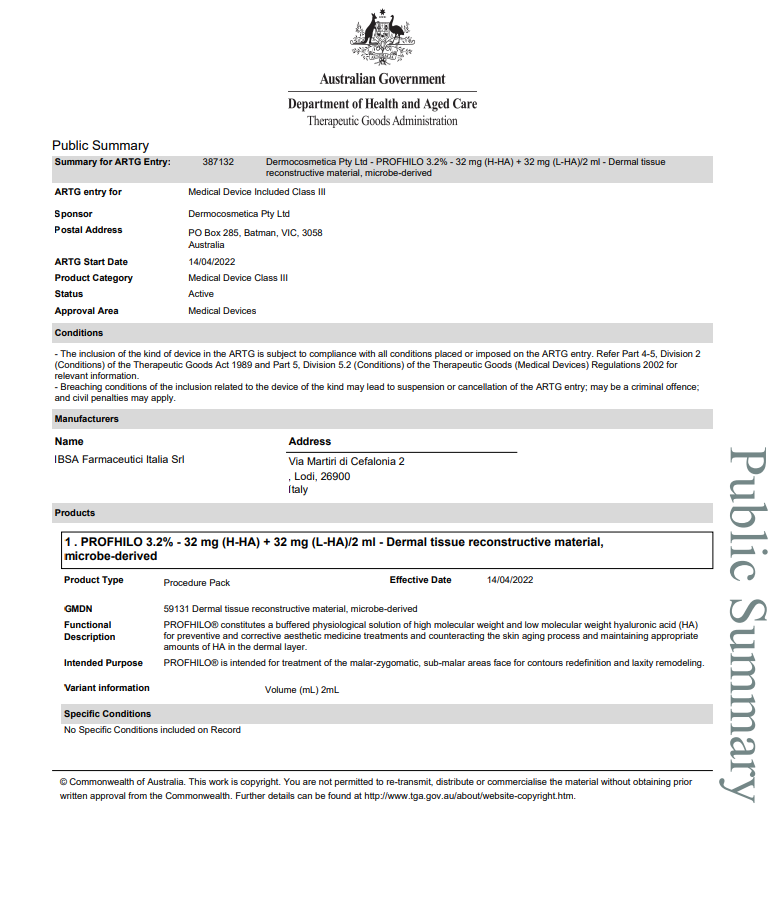 Sponsored Supplier Name:
Dermocosmetica Pty Ltd.
Postal Address:
PO Box 285, Batman, VIC, 3058, Australia.
GMDN:
59131 Dermal tissue reconstructive material, microbe-derived.
Functional Description:
PROFHILO® constitutes a buffered physiological solution of high molecular weight and low molecular weight hyaluronic acid (HA) for preventive and corrective aesthetic medicine treatments and counteracting the skin aging process, and maintaining appropriate amounts of HA in the dermal layer.
Product Information Summary:
PROFHILO 3.2% – 32 mg (H-HA) + 32 mg (L-HA)/2 ml – Dermal tissue reconstructive material, microbe-derived.
For the complete ingredient list of Profhilo check out the following article: Profhilo Ingredients List
Variant Information:
Volume (mL) 2mL
Manufacturer Details
Manufacturer Name:
IBSA Farmaceutici Italia Srl
Manufacturer Address:
Via Martiri di Cefalonia 2, Lodi, 26900, Italy
Profhilo Injections Detailed Summary
Profhilo injections, often called Bio Remodelling, consist of a special type of ultra-pure hyaluronic acid (HA) with a slow-release mechanism that triggers collagen and elastin production and provides extreme skin hydration and skin laxity.
Some other benefits include:
Treating skin laxity
Significant tissue improvement (overall skin quality)
Treating sagging tissue (sagging skin)
Improved skin tone and skin texture
Stimulating collagen and elastin (prolonged stimulating activity)
Improving the appearance of fine lines and wrinkles
Although Profhilo has the same ingredient as dermal fillers (hyaluronic acid), it does not have the same result.
Dermal filler has been designed to fill a hole and add volume to the face, while Profhilo improves dermal cells through 5 different injection sites under the skin's surface and then triggers the body's natural process to slow down the ageing process by triggering collagen and elastin production.
Dermal fillers have a much harder consistency and show immediate results. This is perfect if you have a loss of volume, but dermal filler is not as good at improving the skin's overall health.
You'll usually have one or two treatments spaced one month apart.
After your first treatment, you'll wait one month, and then after the second treatment, you'll have follow-up treatments every six months.
Summary
So there you have it! It's now time to find a location to try the Profhilo injection cosmetic treatment.
If you've tried another type of skin booster before and love skin care, you should be excited to try the newest type that gives a longer-lasting and safer result.
Whether you want to have that youthful glow or treat skin laxity (counteract skin laxity), we know you'll love the results you get from this fantastic bio-remodelling treatment that is now approved in Australia.